From Hugh MacLeod's gapingvoid.com
Today's What Is Sexy bits (W.I.S.B.s):

Words are, yet again, sexy.
Today's first sexy words came to me by way of my A.W.A.D. missive's thought for the day:
"There are no chaste minds. Minds copulate wherever they meet."
-
Eric Hoffer
, philosopher and author (1902-1983)
Just may have to pick up Hoffer's
The True Believer: Thoughts on the Nature of Mass Movements
. Reading Malcolm Gladwell's
The Tipping Point
has me all a'twitter about societal cause/effect schtuff. If you haven't read
The Tipping Point
, RUN!, don't walk, and get a copy today. It's an unsuck read.
But, back to my unchasteyness. I may not have (yet) met
Hugh MacLeod
's mind in person, but his words have caused much copulation in my mind. Mental masturbation? I digress . . .
Hugh's post yesterday
included this copulative nugget:
"It's good to be young and full of dreams. Dreams of one day doing something "insanely great". Dreams of love, beauty, achievement and contribution. But understand they have a life of their own, and they're not very good at following instructions. Love them, revere them, nurture them, respect them, but don't ever become a slave to them. Otherwise you'll kill them off prematurely, before they get the chance to come true."
Rock on, Hugh! Here's to not becoming a slave to your dreams. And, to not forgetting them.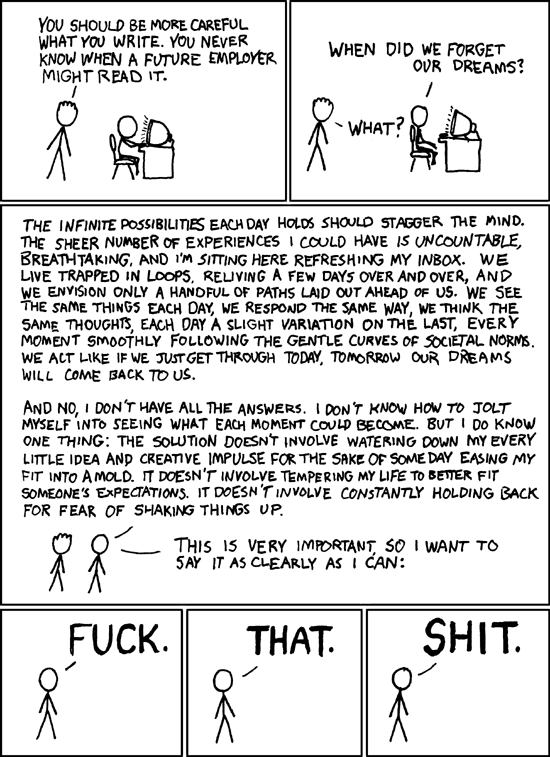 From Randall Munroe's xkcd.com